Committee Chair: Miranda Berner, board member and past WCC president
The Wallingford shores of Lake Union
Protecting the shoreline habitat and restoring public access to Lake Union along its shoreline is a top initiative of the Wallingford Community Council. We work with members of the community and different entities on the nine waterways and street-ends along the north shore.
Help us restore Waterway 20 for the public and environment
Join our team to help create an amazing access point at Waterway 20, located just west of the Gas Works Park, for kayakers, paddle boarders, and others who want to enjoy Lake Union.
Today, the Department of Natural Resources (DNR) owns and controls the land where Waterway 20 is located. But, in 2015, the Harbor Patrol blocked public access to the waterway when it expanded the fence for its own property.
Recently, in December 2020, the City of Seattle and DNR signed a lease and have begun working with the WCC to plan for how to both reopen the waterway to the public, as well as share it with the Harbor Patrol. This is great news! And where the work and community involvement, begins.
Why are our waterways and street-ends important?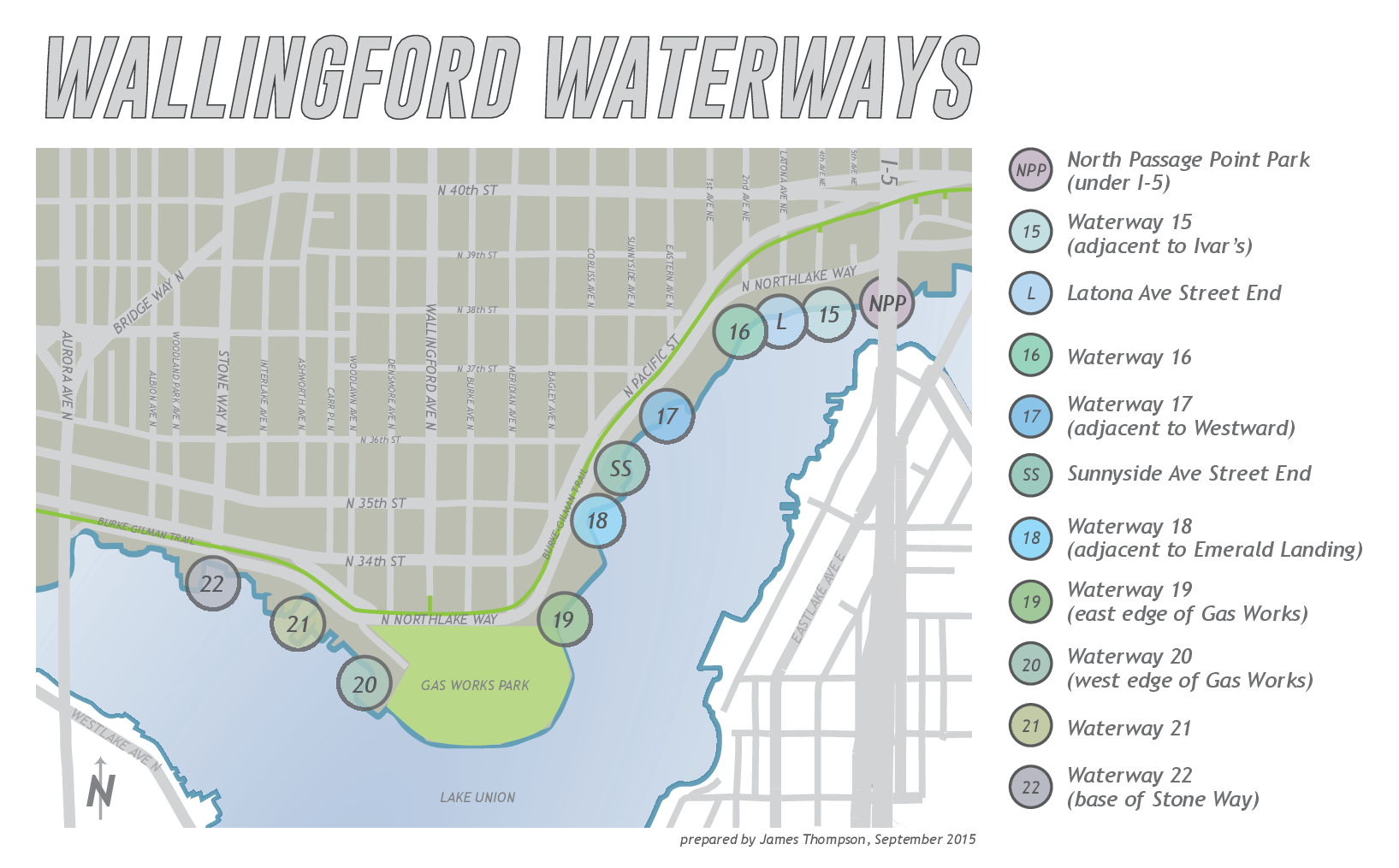 Lake Union is a pre-existing natural lake formed by Vashon Glacier during the last ice age, about 12,000 years ago. Once inhabited by the Duwamish people, today it has a functioning ecosystem with some of the most diverse traffic – from boating/kayaking and boat houses, to tour boats and seaplanes – in the middle of a booming city.
Once upon a time, though, Lake Union had 23 waterways open to the public; now only 18 remain open. Of these, nine are located in Wallingford along the lake's north shore – Waterways 15-23. Many of these public access points have been slowly turned into private access points or are occupied by city or state government organizations. The WCC was successful over the past two years to keep Waterway 23 open to the public in an agreement with the Lake Washington Rowing Club.
Reports